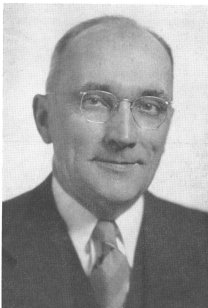 Welcome to the on-line edition of Martinis. Various thought, whimisical and otherwise, from the columns of a Minnesota country editor.

This is a collection of columns written by Martin McGowan Sr. which appeared weekly in the Appleton Press, Swift County, Minnesota. His son, Martin Jr., followed the tradition with his "The Cub's Corner" columns for the same Appleton Press.
Martin J. McGowan Sr.
1887-1954
He flavored the commonplace with
spice and seasoned it with humor.
This collection of Martinis columns written by Martin J. McGowan Sr. was originally published in 1955, compiled and edited by:
Elizabeth K. McGowan, his wife
Martin J. McGowan Jr., his son
Eleanor K. McGowan, his daughter