HOME
People
Chairman Bill
Webmaster
Public Life
Business
At the Bar
Medicine
Feedback and FAQ
Index of Pages
Incidental Sightings
In Real Estate
Genealogy
History
Newest Information
Education
Literature
Sports
---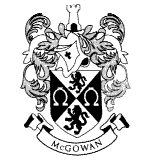 This page is the super bookmark for incidental McGowan sightings. It's for evidence of McGowan activities whose web presence is maintained by someone other than a McGowan Family member, their estate, or Foundation. Also, now, it helps if your name was Bill McGowan.




The Higher Call


Fr Killian McGowan, C.P. published Compassion, the Passionist Fathers quarterly
Fr J McGowan was a pastor at St Dennis in Lockport, IL in the last century.


Government


Gerald McGowan is the U.S Ambasador to Portugal

James McGowan is NY State Commisioner of Labor


Athletics

Sean McGowan of Boston College was just drafted by the SF Giants
Bill McGowan is the Head Crew Coach at UMass, Lowell

A story about Umpire Bill McGowan. Here is his gravesite.

Media


Ross McGowan is a TV Anchor


Business

John McGowan is the General Manager at Intel Ireland.


Law

Steve McGowan is an attorney in employment and civil right litigation in WV.

David McGowan is a professor at U of Minn Law.

Miranda O McGowan is a Professor of Law at U of M


Genealogy


Caroline McGowan married Michael Duggan.


Education

Kevin McGowan is the
Crow expert at Cornell

Judy McGowan is Teacher of the year in Kalmazoo.


Bill McGowan Sightings

Bill McGowan is an area contact for the Delaware Farmstead Assesment System.
Bill McGowan is a business manager for the IBEW, from a column in Business Today.
---

Does anyone know what is the significance of McGowan's Corner New Brunswick